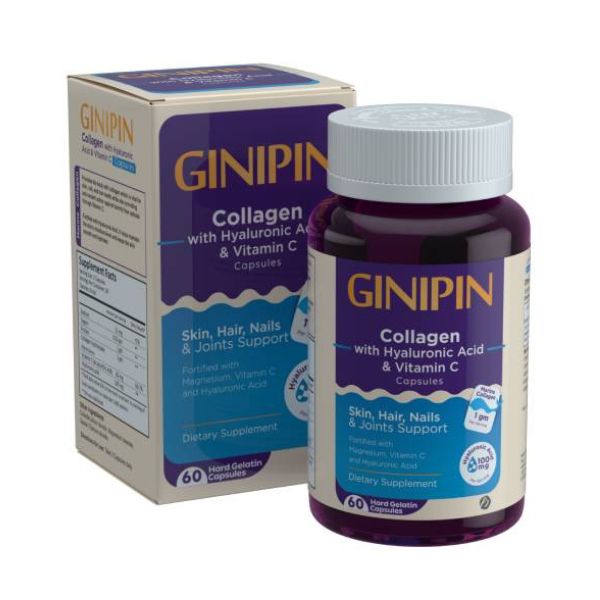 GINIPIN Collagen With Hyaluronic Acid & Vitamin C Capsules
Provides the body with collagen which is vital for skin , nail and hair health while also providing anti-oxidant action against harmful free radicals through Vitamin C.

Fortified with Hyaluronic Acid , it helps maintain the skin's moisture level and keeps the skin smooth and hydrated
In stock
GINIPIN Collagen Capsules provides the body with collagen which is vital for skin, nail, and hair health.

GINIPIN Collagen Capsules enforced with Hyaluronic Acid helps in increasing skin hydration, decreasing the formation of deep wrinkles and improving skin elasticity .

Acts as a powerful antioxidant and helps in reversing premature aging and the promotion of a youthful appearance.

GINIPIN Collagen Capsules with its high concentration of Vitamin C, it boosts the body's ability to naturally produce collagen, and has a major role in boosting the immune system.
Provides the body with collagen which is vital for skin , nail and hair health while also providing anti-oxidant action against harmful free radicals through Vitamin C.

Fortified with Hyaluronic Acid , it helps maintain the skin's moisture level and keeps the skin smooth and hydrated
Marine Collagen Hyaluronic Acid
Vitamin C
Magnesium